Post by coconutcandles on Apr 24, 2021 23:27:19 GMT -5
The moment some of us have been waiting for... MY fancy thread!
First of all I am so happy we got so far in the tourney all things considered, I really didn't even think we'd make the tournament, let alone the final 4! This year we were incredibly resilient and put 10000000% in when we needed it😐
Next year our only graduate is beloved Maria Bogomalova, the reason we made it so far in the tournament. Her calm demeanor and killer serve will be missed greatly.
---
We signed 4 2021s for next season:
Lauren Bays
5'8 L/DS - Tstreet VBC - Orange County, CA
(https://www.youtube.com/watch?v=CxEPCqFLEtA white shirt, playing with some fellow huskies)
A libero with truly amazing ball control, she will be a big piece for the huskies. Spending so many years at the fundamentals driven Tstreet, Bays brings good serve receive, as well as a killer serve and some great defense. Being on one of the top teams in the nation (winning 2 national championships) she is no stranger to the big stage and playing against D1 commits, which is why I think she'll transfer well into the college game.
"Lauren Bays is what happens when tremendous love of the game meets great learning at a young age. For years she has been winning at the highest levels of the game. She was a must-get player in our evaluation in a position that has always been a key to our success."
-Coach Cook on Lauren Bays
Emoni Bush
6'3 OH - Carihi Secondary - Campbell River, Canada
A hitter who is a big blocking force and will add to the long list of husky hitters with cannons for arms, Bush enrolled early at the UW and has been practicing with the team for months now. She made the Canadian national team in 2019 and 2020 and is another girl who is used to playing under the bright lights. Her physicality will keep the Huskies one of the top blocking teams in the country/conference.
"Emoni Bush's rate of improvement caught our attention early in this recruiting cycle. She went from potential to prospect in six months. Emoni has the physicality to score in the Pac-12 plus the international experience we love for our players. She has Olympic aspirations for her home country of Canada and we're thrilled to have her in our gym in January."
-Coach Cook on Emoni Bush
Audra Wilmes
6'1 OH - NPJ - West Linn, OR
A well rounded player who is athletic and could be a good defender/passer for UW. Her cut shots are a nightmare to defend as well as her line shots. She has won multiple club tournaments with her NPJ team and was among the 24 girls picked for the USA GYNTT, before not being selected to travel to Egypt. She is easily the best player in Oregon and among the top in the country.
Audra Wilmes joins a long list of talented outside hitters from the state of Oregon to come north. Her length, range as an attacker and work ethic stood out amongst the best players in the Northwest. She has played in the top divisions of club volleyball since her sophomore year and has always thrived on the challenge.
-Coach Cook on Audra Wilmes
Molly Wilson
5'11 S - Coast - Murrieta, CA
A fiery setter with great hands and a high volleyball iq, Wilson is one of the most underrated setters in her class. She has already played with Madi Endsley and sets a LOADED Coast 18s team this year. Her jump sets flow beautifully and her back dumps are smooth and hard to read, and she is a defensive force, back row and front row.
Molly Wilson is in my view one of the best kept secrets in the 2021 class particularly in Southern California. She is an articulate and determined competitor who makes teams better. I am equally excited about Molly's setting abilities as I am about her leadership potential.
-Coach Cook on Molly Wilson

---
RETURNING STARTERS AND THEIR ACCOLADES THIS SEASON
(if I miss anything let me know)
Starting off strong...
Samantha Drechsel
6'4 Opp - Sr.
Sam carried a huge load this season, playing 6 rotations and being one of our most officiant hitters AND passers this year. She earned NCAA all tournament team, 1st team AA, and all PAC team.
Ella May Powell
6'0 S - Jr.
Another player who carried a huge load. She came back from an MCL tear and somehow lead this team through all the passing struggles. She also earned 1st team AA, all PAC team, PAC 12 SOY, and AVCA
North Pacific region POY.
Marin Grote
6'4 MB - Jr.
Stepped into her first big role this year after the departure of Avie Niece, and did really really good things. She was an incredible offensive AND defensive force. She didn't get many accolades, but did get the nod of PAC 12 HM.

Lauren Sanders
6'4 MB - Sr.

Didn't start the season very strong but
definitely ended very well. A huge force at the net and she has an incredible slide. She made the PAC 12 HM list this season.

Madi Endsley
6'2 OH - Fr.

Our star frosh, really came out of her shell in the tournament. She was on the PAC all freshman team and the AVCA pacific north region FOY.
Shannon Crenshaw
6'2 OH/L - Jr.
A total queen for stepping into the libero position this year. It wasn't always pretty but she did what she had to do. She may have not garnered any post season honors, but without her UW wouldn't have gone anywhere.
Emma Calle
5'11 DS - Sr.
Another one who didn't have a role last season but took the one they had this year gracefully and did what they could. Calle brought heart and hustle to the floor when we needed it most and we appreciated her flying everywhere just to keep the ball up.
Claire Hoffman
6'2 OH - Jr.
Oh Claire, the silent leader. Always clutch, always ready. She had a huge hole to fill with bajema and she did it so well. She EARNED 2nd team AA and all PAC 12.
---
Thought I should make an entire section for our fearless leaders who got their LONG LONG LONG overdue awards.....
KEEGAN COOK
Pac 12 Coach of the Year!!!!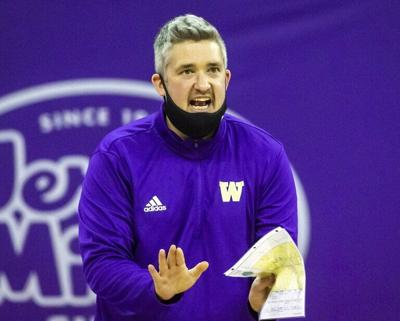 LESLIE GABRIEL
National Assistant Coach of the Year!!!!!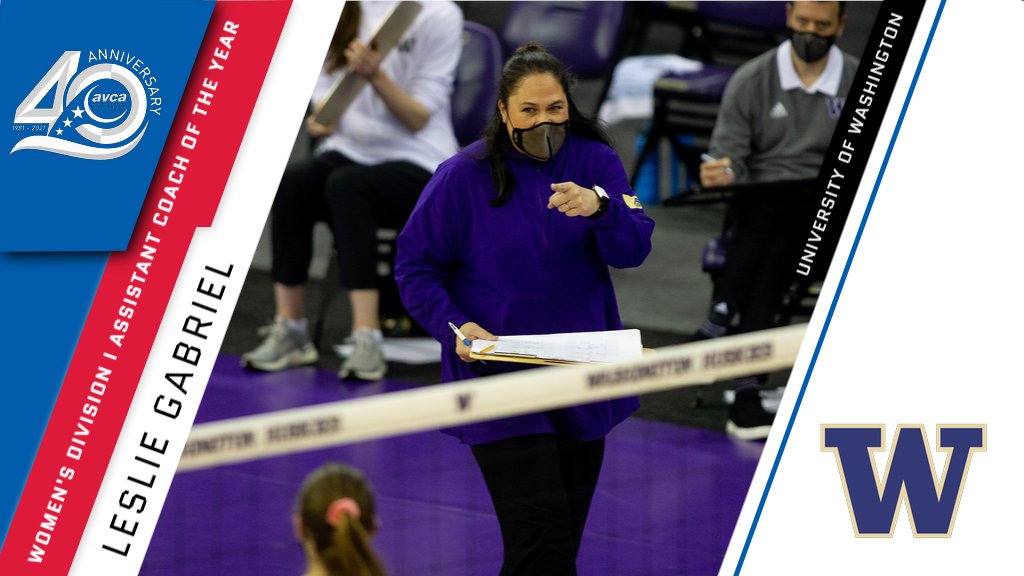 Congratulations!! So so so well deserved!
---
Anyways that's all for now, I really want to get this out there. I will probably (definitely) add more to this later!
Also... it is my fault the huskies lost because I went to volleyball practice😔 (for
mikegarrison
)