Post by boh on Jan 7, 2018 20:17:37 GMT -5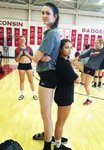 I was hoping you were still around, have not noticed much since last club season from you. Agreed, about the only thing I saw today was strong hitting for most teams. No single setter stood out, passing was very weak in most cases. Some strong serving overall but a lot of work to do at GLPL in the super open division to be sure. Landfair was a beast though, it looks like 18 Elite will be heavily dependent on her this year.
Illini Elite could be in trouble this year unless their setters can somehow find a way to connect with Hannah Clayton, nearly every set was either too slow or too low, she had to hit the ball at her shoulder or ear in most cases. Neither Fusion 18 team looked particularly strong, Sting black and white actually looked better than gold even though they both went 0-2. I was impressed with Natalia Pehar's hitting for 1st Alliance 18 Silver but she only plays front row, the same team also had a great serve from their setter Molly Hackett.
Yeah still around. Don't get to watch much college ball during HS season so I don't comment too much and read more than anything else.
i did not get a chance to see landfair play at all yesterday or today, I don't think there was ever any question she was going to be the next big gun for elite since the beginning of last year. I didn't see uno play at all so cannot comment on them other than I thought their 17s team was pretty good last year. My memory is not good though so maybe it wasn't them.
Still a lot of ugly volleyball today. Like you said, some good hitters and serving but everything else is a mess all around.
Ive considered this a down year compared to most years for IL volleyball in general. Now with a few early grads missing here and there it really seems to be showing.