Post by BuckysHeat on Jan 31, 2018 11:10:18 GMT -5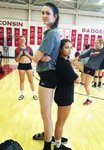 I was speaking of the year before, same group of kids +1 middle if I recall. They won 18 open with one 18 and one 16 (again going based of memory, which is spotty).
Last year they not only lost their 18, but a few girls to early graduation including Sydney Hilley who was obviously a huge part of what they did. I did not think last year they under performed THAT much because they lost some pieces that were key to their success.
At the beginning of the season they were tabbed as one of the very top teams and certainly the one to beat at AAU even with the losses. That changed when McGraw got hurt in Milwaukee and was out - I think for the rest of the club season. The following weekend they won Vegas over KC Power and finished 11-0. But by June, they did finish in 3rd at AAU Nationals but ONLY because they won just enough in the power pools to make it to gold, they finished 3-6 with an 8-13 set record.
But I believe you are right, in 2016 Mn Select took 2nd at AAU and won USAV I think.